Balochistan, a brief introduction Strategically located along the long coastal belt from the Middle East toward the Indian subcontinent, Balochistan— "the land of the Baloch"— was once a sovereign country. The British occupied Balochistan in 1839 and left it divided into three parts in what is now Pakistan, Iran, and Afghanistan. The overall land equals the size of three U.S. states: the size of New Mexico in Pakistan, the size of Nevada in Iran, and the size of West Virginia in Afghanistan. In addition to this congruous land, a huge chunk of Baloch people lives in southern Punjab and the Sindh towns of cities of Karachi, Jacobabad, Larkana, and Dadu. The significant Baloch population also lives in the Arabian Gulf nations, particularly Oman and Bahrain, and Turkmenistan in Central Asia.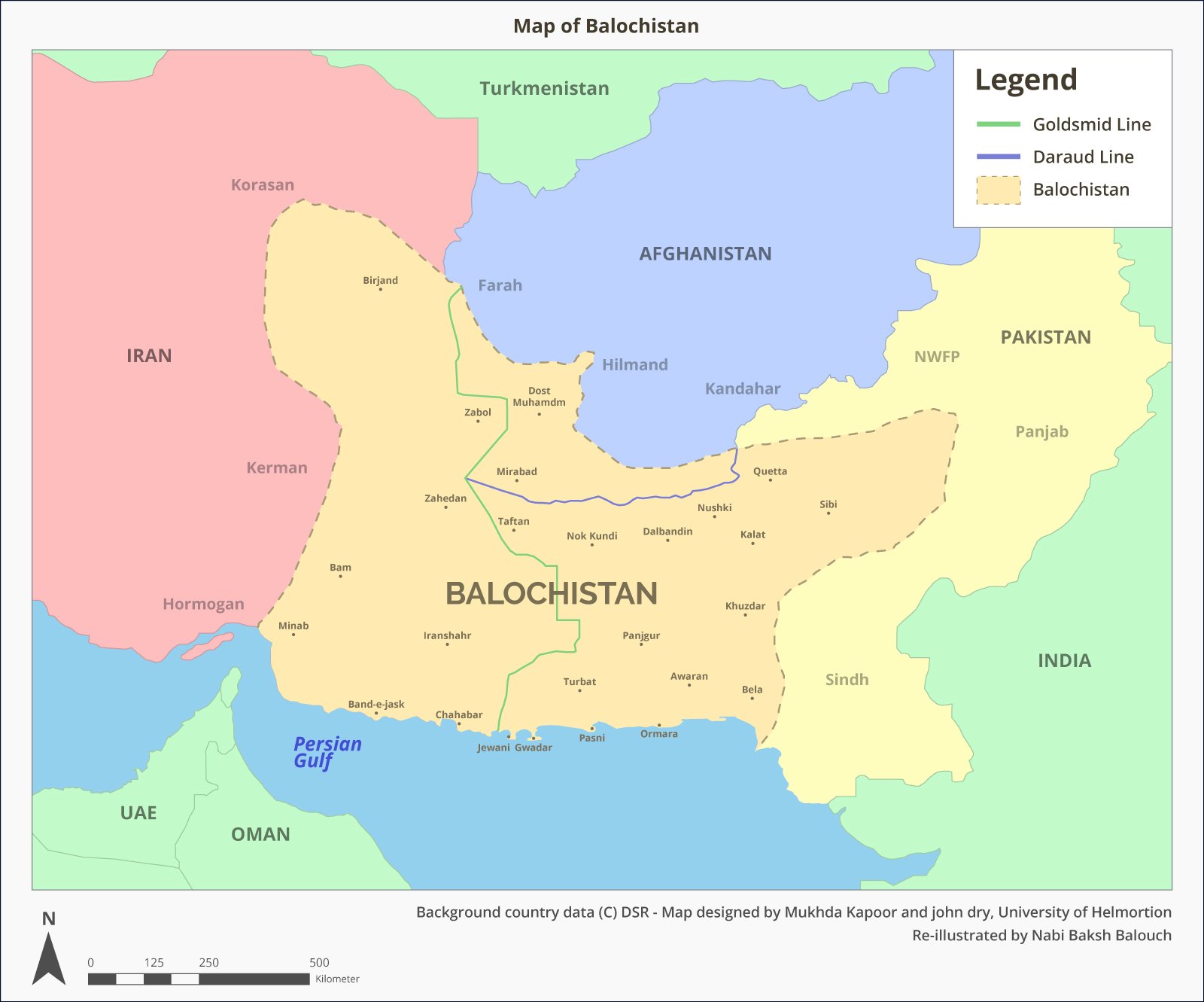 Overall the number of Baloch people guesstimated is at least 30 million in Balochistan and the Diaspora. The languages they speak at home are Balochi, Brahui, and Seraiki.
Balochistan is rich in gas, untapped oil, indigenous iron, copper, gold, silver, molybdenum, lead, zinc, barite, chromite, coal, gypsum, limestone (marble), among a host of other natural resources, but the bulk of the people live in the poverty level of sub-Saharan Africa.
Gifted with a more than 600-mile long coastline right atop the Straits of Hormuz, Balochistan commands a unique place in the new Great Game being played out in the region.
In their blood checkered history, Baloch regained their statehood briefly. The British granted independence to a part of Balochistan on August 11, 1948– separately from Pakistan and India— but the land was occupied by Pakistan troops on March 27, 1948.
Since then, there have been five armed uprisings against Pakistan rule. The David-and-Goliath struggle continues to this day, leaving thousands dead and millions affected.
We request you to help people of
Balochistan
by signing on our petition(s) to the United States and world leaders to help end the ongoing human rights violations in Balochistan.
These human rights violations have included slow-motion genocide, extrajudicial killings, enforced disappearances, unconscionable torture, setting homes and farms on fire, forced displacements of the entire population, collective punishment of entire local communities, military operation and aerial bombardment against civilian populations.